Through Social Media
Stay connected to the RackSolutions community through one of our online, social media networks. Choose the platform that you prefer, and stay
informed about new, exciting products. You can also educate yourself on how to rack mount servers and other equipment by reading articles in our
Server Rack blog or by following us on Twitter or Facebook.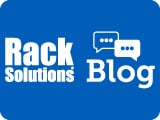 Browse our blog posts covering FAQs, how-to's, and product walk-throughs. Review and educate yourself with everything you need to know from small IT to the largest data centers in the world.