Mount a computer monitor on a wall
Allows monitor to pivot up and down
P/N 104-2411: moves up, down, left, and right
Mounting hardware included
Compatible with most computer monitors
75x75 and 100x100mm VESA hole patterns are compatible with 104-2202
75x75 and 100x100mm VESA hole patterns are compatible with 104-2411
75x75, 100x100, and 200x100mm VESA hole patterns are compatible with 104-4011


RackSolutions' Monitor Wall Mount gives users the ability to easily mount a monitor to a wall. The Monitor Wall Mount tilts up and down. It is compatible with computer monitors from leading manufacturers like Dell and HP. The Monitor Wall Mount is designed to attach to monitors with 75 - 100 mm or 75 - 200mm VESA hole patterns.

For installation, all of the necessary hardware to securely attach the Monitor Wall Mount to a wall or stable flat surface is included. Hardware includes a VESA monitor bracket, 4 drywall anchors and 4 screws for mounting the Monitor Wall Mount to the wall. Also included are spacers and screws for attaching your monitor to the Monitor Wall Moun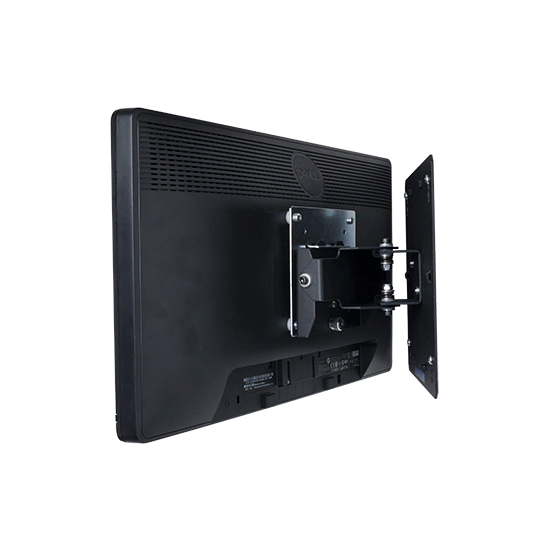 104-2411 Pivot Wall Mount

The pivot mount pictured above (104-2411) moves up, down, left, and right. The VESA compatibility is 75- 100 mm.
More Information
Compatibility
75X75 and 100X100mm VESA hole patterns are compatible with 104-2202 75X75 and 100X100mm VESA hole patterns are compatible with 104-2411 75X75, 100X100 and 200X100mm VESA hole patterns are compatible with 104-4011
Weight Capacity
20 lbs. P/N 104-2202 40 lbs. P/N 104-4011
Dimensions
Outside Dimensions 8 x 8 x 1 3/4"
(H x W x D)
Rack Type
Wall Mount
Finish
Black, powder coat
Amazon ASIN
104-2202 = B00UVK7Z3Y 104-4011 = B00UVK89IY 104-2411 = B072YTYM34
RoHS Compliant
Yes
TAA Compliant
Yes
Included Hardware
(1) Pivot Assembly
(1) VESA Monitor Bracket
(4) Pan Head Screws
(4) Anchors
(8) Nylon Spacers
(4) M4 x 10 mm Pan Head Screws
(4) M4 x 18 mm Pan Head Screws
(4) M4 x 25 mm Pan Head Screws